A HUGE Thank you to VQF and all my students! I had a wonderful time teaching virtually. I talked about the classes last week. I ended on Friday evening with Bindings – A World of Options. I love sharing binding possibilities and showing my quilts with the variety of bindings I've used. If you missed this lecture, you've got another chance! I'll be teaching it at the International Quilt Festival in Houston, IN PERSON, this October!!
Houston announced their teacher roster! I'll be teaching the lecture, Bindings – A World of Options and my class Done by Three! I'm excited to be in person for the show this fall. I'll also be vending. You can see the faculty list on the Quilts, Inc. website and my listing HERE. You'll see I changed up my photo. <grin>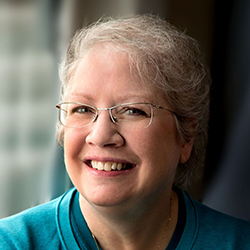 I hope you will join me in Houston if you missed these classes at Vermont virtual Festival.
The joy of the pattern, Done by Three, is it uses ALL Fat Quarters except the binding! I'll put photos of three of the quilts I've made with this pattern.
Have you ever bought a bunch of Fat Quarters or a FQ bundle but didn't know what to do with them? This quilt is perfect for those FQs. It has a way of highlighting each fabric and tying them all together.
A Fat Quarter is 18″ x 20-22″ (the second number depends on the width of fabric). Instead of a "skinny" quarter yard (9″ x 40-44″) we cut 18″ from the bolt and then cut half the width…thus a FAT quarter! It is a larger "chunk" of fabric to work with and a favorite of so many quilters. How many of you have a stash full of Fat Quarters?
#1- Give Done by Three a try if you have a bundle of Fat Quarters! You can find it on my website. Done by Three
While teaching for VQF, I was still in Kansas City. I forgot to pack my large square ruler. So, away I went to purchase another. I ended up getting a 15 1/2″ square. I LOVE a large square. The quilt Twirl-A-Tool is a larger block. This square worked great!
#2- Treat yourself to a large square ruler!
in quilting,
Debbie